"Two Pieces" is a song by Demi Lovato which appears as the fifth track on her fourth album, DEMI.
Critical Reception
On May 9, 2013, in a track-by-track Billboard review, writer Jason Lipshutz stated: "A cinematic anthem meant to be performed while standing outside of an ex's house in the pouring rain. Once again, Lovato utilizes the subtleties of the quieter verses to gather and store vocal energy for the showy refrain." [1]
Live Performances
"Two Pieces" was a part of the setlist for Demi's Neon Lights Tour.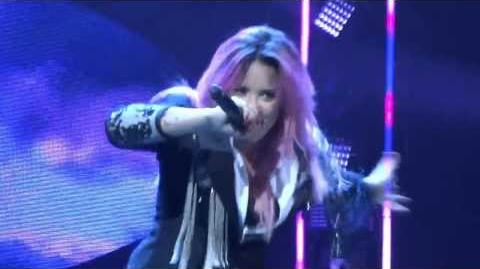 Lyrics
There's a boy, lost his way, looking for someone to play
There's a girl in the window tears rolling down her face
We're only lost children, trying to find a friend
Trying to find our way back home

We don't know where to go, so I'll just get lost with you
We'll never fall apart, cause we fit together right, we fit together right
These dark clouds over me, rain down and roll away
We'll never fall apart, cause we fit together like, two pieces of a broken heart

I know where we could go and never feel let down again
We can build sandcastles, I'll be the queen, you'll be my king
We're only lost children, trying to find a friend
Trying to find our way back home

We don't know where to go, so I'll just get lost with you
We'll never fall apart, cause we fit together right, we fit together right
These dark clouds over me, rain down and roll away
We'll never fall apart, cause we fit together like, two pieces of a broken heart

Now I can lay my head down and fall asleep
Oh, but I don't have to fall asleep to see my dreams
'cause right there in front of me
(right there in front of me)

There's a boy, lost his way, looking for someone to play
We dont know where to go, so I'll just get lost again
We'll never fall apart, cause we fit together right, we fit together right
These dark clouds over me, rain down and run away
We'll never fall apart, cause we fit together right, we fit together like two pieces of a broken heart

There's a boy, lost his way, looking for someone to play
References
Template:DEMI