Template:TSThe X Factor is a television music competition franchise created by Simon Cowell. It originated in the United Kingdom.
USA Version
Categories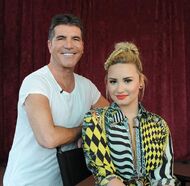 The show is primarily concerned with identifying singing talent, though appearance, personality, stage presence and dance routines are also an important element of many performances. Each judge is assigned one of four categories. For seasons one and three, these categories were: "Boys" (aged 12–29 males), "Girls" (aged 12–29 females), "Over 30s" (solo acts aged 30 and over), and "Groups" (including duos). Season two's categories and age group boundaries were changed, with the "Boys" and "Girls" categories becoming "Teens" (solo acts aged 12–17) and "Young Adults" (solo acts aged 18–24), and the "Over 30s" became "Over 25s" (solo acts aged 25 and over). For both seasons, some groups were formed from soloists and other groups rejected after the audition process. Through the live shows, the judges act as mentors to their category, helping to decide song choices, styling and staging, while judging contestants from other categories.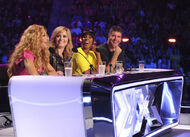 Stages
There are five stages to the competition:
Stage 1: Producers' auditions (these auditions decide who will sing in front of the judges)
Stage 2: Judges' auditions
Stage 3: Bootcamp
Stage 4: Judges' houses
Stage 5: Live shows (finals)
Judges
After season one, The show needed two new judges. Simon Cowell, sought to hire pop star Britney Spears. Following the employment of Spears, Cowell was looking for a young superstar, in order to bring in a younger audience. On May 14, 2012 it was announced that Demi Lovato, along with Spears, had signed a one-year contract with the show. For season three, L.A. Reid who judged both season one and two, announced that he would not be returning to the show for a new season. Spears also announced on January 11, 2013 that she would not be returning for another season. In May 2013, Kelly Rowland and Paulina Rubio were confirmed to join the judging panel alongside Cowell and Lovato for the third season. On December 19, 2013 Demi announced she will not returning to The X Factor, deciding to focus mainly on her music career. It was later announced that the X Factor US was cancelled.

UK Version
2014
Demi Lovato and Olly Murs performed their single Up on December 14.