Studio DC: Almost Live

Television Show
Created by:
Krash R. Davenport
Presented by:
Martin G. Baker
Jim Lewis
Kirk Thatcher
Country of origin:
United States
Production
Running time:
22-23 minutes
Production company(s):
The Muppets Studio
American English Entertainment
Broadcast
Original channel:
Disney Channel
Original run:
August 3, 2008 – October 5, 2008
Relevant Pages

GALLERY
Studio DC: Almost Live is a special show for the Disney Channel. The special is a half-hour variety show that features both The Muppets and Disney Channel stars performing comedy sketches and musical numbers together. The style is similar to that of The Muppet Show in that it features mayhem occurring on the Disney Channel Studio sets in place of the Muppet Theater.

2008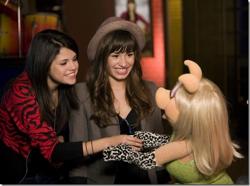 A second special aired October 5, 2008 with
Selena Gomez
,
Demi Lovato
, Jake T. Austin, Jason Earles, Jason Dolley, Moises Arias, David Henrie and The Cheetah Girls guest starring. At the D23 Expo, it was announced that both specials will be released on DVD sometime in 2010. Its only DVD releases so far have been in the UK, in Germany and in Argentina.
Sketches and performances
The Cheetah Girls performing "Dance Me If You Can" with Miss Piggy
Selena Gomez learns the art of comedy from Fozzie Bear
Moises Arias and Jake T. Austin learn the art of being a critic from Statler and Waldorf
Jake T. Austin also turns Gonzo's girlfriend, Camilla, back into a chicken (she had accidentally been turned into a turkey) showing he's a real wizard unlike Selena and David whom just "act like it on TV".
Demi Lovato sings "This is Me" with Beaker (Usually, it was supposed to be Kermit the Frog but Miss Piggy didn't let him).
Jason Earles and Jason Dolley visit the Swedish Chef's craft services table
David Henrie jams with Floyd on the guitar
A running gag with skits for Disney Channel shows, except modifying the title a bit. Shows featured included The Blizzards of Waverly Place (Wizards of Waverly Place), Banana Montana (Hannah Montana), and High Stool Musical (High School Musical)
And in the end credits, Miss Piggy goes into Zac Efron's Trailer, and looks for him.
David Henrie teaches Kermit the Frog how to read the text language in the text Ashley Tisdale sent him
The Jonas Brothers perform "That's Just the Way We Roll" with Miss Piggy
Community content is available under
CC-BY-SA
unless otherwise noted.