Seventeen

Frequency
Monthly
Company
Hearst Magazines
Country

United States

Language

English

Website

Seventeen is an American magazine for teenagers. It was the first teen magazine established in the United States. The magazine's reader base is 12–19 year-old females. It began as a publication geared towards inspiring teen girls to become role models in work and citizenship. Soon after its debut, Seventeen took a more fashion and romance-oriented approach in presenting their material, while still maintaining their model of promoting self-confidence in young women.
Demi Lovato was on the cover of the February 2012 and August 2014 issue of Seventeen magazine. She is also a contributing editor for the magazine.
Covers
2012
Demi talks about her past with drugs and alcohol, her sober present and the friends who have stuck with her through it all. During Demi's interview with the magazine she revealed that she used to self-medicate with drugs and alcohol, but says that she is clean and sober now. She also discusses who her friends are in the interview, and what she does for fun when she has free time.
Gallery
2014
Demi opened up about her own personal problems and hand out tips to those struggling with similar issues. She also urges fans to be more careful when using social media websites like Facebook or Twitter, saying, "I'm impulsive when it comes to fighting back, but I've learned to reel it in. Tweeting without thinking does more harm than good. So take a second. Journal what you want to say, and then if you still feel the same later, that's when you can tweet it."
She encourages youngsters to reevaluate their friendships and make changes where necessary, saying, "When you're growing and the people around you aren't, that's when you have to start shedding them. I've done that a lot over the past few years, but it has been so worth it, because the people in my life today inspire me to keep being creative, to have fun, and to be a good person."
Gallery
Videos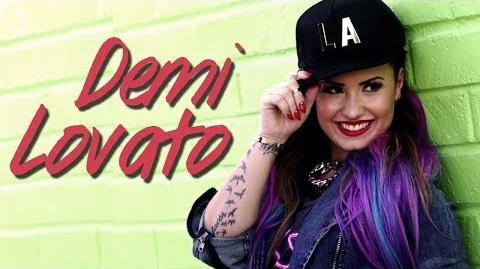 Community content is available under
CC-BY-SA
unless otherwise noted.