Demetria Devonne Lovato (born August 20, 1992) is an American singer, songwriter, and actress. After appearing in the children's television series Barney & Friends (2002–2004), they rose to prominence for their role as Mitchie Torres in the Disney Channel musical television film Camp Rock (2008) and its sequel Camp Rock 2: The Final Jam (2010), as well as the titular character on Sonny With A Chance (2009–2011). The former film's soundtrack included "This Is Me", Lovato's duet with Joe Jonas, which peaked in the top ten of the Billboard Hot 100. After signing with Hollywood Records, Lovato released their pop-rock debut album, Don't Forget (2008), which charted at number two on the Billboard 200. Its follow-up, Here We Go Again (2009), debuted at number one in the US and was certified Gold by the Recording Industry Association of America (RIAA).
Lovato experimented with Pop music and R&B on their third studio album, Unbroken (2011), and returned to a more pop-friendly sound on their fourth studio album, Demi (2013). The album debuted with 110,000 copies sold in the US, their highest first-week sales in the country. Lovato's Soul music -influenced fifth and sixth studio albums, Confident (2015) and Tell Me You Love Me (2017), presented more mature lyrical content than previous works. The latter became their first album to be certified platinum by the RIAA, and its lead single, "Sorry Not Sorry", became their highest-charting single in the US, peaking at number six, and was certified 5x platinum in the US. Lovato's 2020 singles "Anyone" and "I Love Me" became their first number-one entries on Billboard's Digital Songs chart. Their collaborations "Échame la Culpa" (2017) with Luis Fonsi and "Solo" (2018) with Clean Bandit were international successes, both reaching number one in 17 countries and each certified platinum or higher in at least ten countries, including Diamond certifications in Brazil and Mexico.
As of 2017, Billboard reported that Lovato has sold over two million albums and 20 million singles in the US.[1] They received various awards, including an MTV Video Music Award, 14 Teen Choice Awards, five People's Choice Awards, two Latin American Music Awards, and one Guinness World Record. Lovato was also included on the Time 100 list in 2017. Outside of music, Lovato served as a judge and mentor on The X Factor for two seasons, appeared as a recurring character on Glee (2013–2014) and on the sitcom Will & Grace (2020), and voiced Smurfette in the Sony Pictures Animation film Smurfs: The Lost Village (2017). Their struggles with health received significant media attention in the 2010s, in response to which they published a book, Staying Strong: 365 Days a Year (2013), and executive produced the YouTube documentary Simply Complicated (2017).
Life and career
Early life and career beginnings
Demetria Devonne Lovato was born on August 20, 1992, in Albuquerque, New Mexico,[2] to former Dallas Cowboys cheerleader Dianna De La Garza (née Lee Smith)[3] and engineer and musician Patrick Martin Lovato.[4] They have an older sister named Dallas Lovato;[5] a younger maternal half-sister, actress Madison De La Garza;[6] and an older paternal half-sister, Amber, whom they first spoke to when they were twenty years old.[7]
Lovato's parents divorced in mid-1994, shortly after their second birthday. Lovato's father was of Mexican descent, with mostly Spanish and Native American ancestors, and came from a family that had been living in New Mexico for generations; he also had distant Portuguese and Jewish ancestry.[8][9] Their mother is of English and Irish ancestry.[10] Through their father, Lovato is a descendant of Civil War Union veteran Francisco Perea and Santa Fe de Nuevo México governor Francisco Xavier Chávez.[11] Lovato has stated that through DNA testing they discovered that their genetic background is 85% European including 32% Iberian, 16% Scandinavian, and 14% Irish; 10% Native American, and one percent African.[12]
Lovato was brought up in Dallas, Texas.[13][14] They began playing the piano at age seven and guitar at ten, when they began dancing and acting classes.[15] In 2002, Lovato began their acting career on the children's television series Barney & Friends, portraying the role of Angela.[16] Lovato appeared on Prison Break in 2006 and on Just Jordan the following year.[2] Lovato recalls that due to their acting career, they were bullied and requested homeschooling,[17] through which they eventually received their high-school diploma.[18]
2007–2008: Breakthrough with Camp Rock and Don't Forget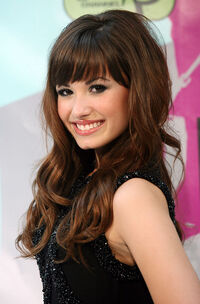 From 2007 to 2008, Lovato played Charlotte Adams on the Disney Channel short series As the Bell Rings.[19] Lovato auditioned for the channel's television film Camp Rock and series Sonny with a Chance during 2007 and got both roles.[20] Lovato played the lead character, aspiring singer Mitchie Torres, in Camp Rock.[21] The film premiered on June 20, 2008, to 8.9 million viewers.[22] Gillian Flynn of Entertainment Weekly wrote that Lovato's acting skills were underwhelming and that she "has the knee-jerk smile of someone who is often told she has a great smile".[23] The film's soundtrack was released three days earlier; however, the music was considered less current than that of High School Musical.[24] It debuted at number three on the US Billboard 200, with 188,000 units sold in its first week of release.[25] Lovato sang four songs on the soundtrack, including "We Rock" and "This Is Me".[26] The latter, Lovato's debut single, debuted at number 11 on the US Billboard Hot 100 and later peaked at number nine, marking her first entry on the chart.[27] That summer, Lovato signed with Hollywood Records and began her Demi Live! Warm Up Tour before the release of her debut studio album,[28] and appeared on the Jonas Brothers' Burnin' Up Tour.[29]
Artistry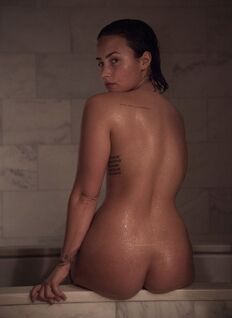 Influences
Lovato has frequently cited "power vocalists" such as Christina Aguilera, Kelly Clarkson, Whitney Houston, and Aretha Franklin as major musical and vocal influences.[30][31] Lovato says, "I had a lot of respect for Whitney Houston, and Christina Aguilera."[32] About her admiration for Clarkson, Lovato says, "I just thought she was a great role model. I feel like she set a really great example and she was extremely talented."[33] Lovato also said that she "was obsessed with Kelly Clarkson" as a child, and she even had an AOL username, "Little Kelly", inspired by the singer.[34]
Her other influences or inspirations include Britney Spears,[35] Rihanna, JoJo, Keri Hilson,[36] Jennifer Lopez,[37] Gladys Knight, Alexz Johnson,[38] Billie Holiday, the Spice Girls,[39] and Billy Gilman.[30] About Gilman she said, "We had the same voice range when I was young. I would practice to his songs all the time."[40] In her teens, Lovato listened to metal,[41] including bands such as the Devil Wears Prada, Job for a Cowboy, Maylene and the Sons of Disaster, and Bring Me the Horizon.[42] She has said that John Mayer's songwriting has in particular been a "huge influence" on hers, and that following the release of Unbroken, her musical style shifted towards hip hop and R&B.[30] Upon the release of the song "Without a Fight" by country music singer Brad Paisley featuring Lovato, she cited the country genre as a lifelong strong musical influence of hers, as she "grew up listening to country" and her mom "was a country singer".[43]
Lovato's The Neon Lights Tour was "inspired by Beyoncé" and specifically her 2013 self-titled visual album in regard to the visuals shown onscreen.[44] Moreover, Lovato revealed that her sixth studio album, Tell Me You Love Me, was inspired by Aguilera.[45] Lovato said "I grew up listening to Christina Aguilera. She was one of my idols growing up. She still is. Her voice is incredible, and in Stripped you really got to hear that. I think it was her breakout album that really transformed her into the icon that she is today. So that inspired me … she really inspired this album. I was even inspired by the black and white artwork!"[45]
Voice
Some sources regard Lovato as a mezzo-soprano[46][47] and her singing voice has been widely acclaimed. Nick Levine of Digital Spy, commenting on her vocals on Don't Forget, stated, "she's certainly a stronger singer than the Jonas Brothers. In fact, her full-bodied vocal performances are consistently impressive."[48] Becky Brain of Idolator wrote that Lovato has a "killer voice and the A-list material to put it to good use".[49] According to Sophie Schillaci of The Hollywood Reporter, the singer "has a voice that can silence even the harshest of critics. Something not often found in her peers."[50] In a review of Lovato's sophomore studio album Here We Go Again, Jeff Miers from The Buffalo News wrote, "Unlike so many of her Disney-fied peers, Lovato can really sing...[and it's] refreshing she doesn't need Auto-Tune to mask any lack of natural ability."[51]
Upon working with Lovato on her third studio album Unbroken, Ryan Tedder stated that she "blew me out of the water vocally! I had no idea how good her voice is. She's one of the best singers I've ever worked with. Literally, that good... I mean, she's a Kelly Clarkson-level vocalist. And Kelly has a set of pipes." He also commented on their work together on the song "Neon Lights" from Lovato's fourth studio album, saying, "She, in pop music, has one of the biggest ranges, possibly the highest full voice singer I've ever worked with."[52] Tamsyn Wilce from Alter the Press commented on her vocals on Demi, stating "it shows just how strong her vocal cords are and the variation of styles that she can completely work to make her own."[53]
In a review of the Neon Lights Tour, Mike Wass from Idolator commented "you don't need shiny distractions when you can belt out songs like [Lovato] and connect with the crowd on such an emotional level."[54] In a review of the Demi World Tour, Marielle Wakim from Los Angeles Magazine commented on Lovato's vocals, stating, "For those who haven't bothered to follow Lovato's career, let's get something out of the way: the girl can sing. Get over your fear of being judged by your Facebook friends and Spotify her discography, because you're going to have the last laugh five years down the road (probably sooner) when she wins a Grammy. At 22 years old, her vocal range is astounding." She went on to further describe her vocals as "spectacular".[55]
Lovato was lauded for her performance of "The Star-Spangled Banner" at Super Bowl LIV in 2020. Patrick Ryan of USA Today commended her for delivering a "flawless performance" and "reminding us she's one of the best vocalists in the industry today."[56] He went on to note that "she hit all the high notes with ease" and ultimately "even added some of her own riffs" which he says resulted in "a rendition that was uniquely and phenomenally hers."
Personal life
Residence
On her 18th birthday, Lovato purchased a Mediterranean-style house in Los Angeles for her family; however, she decided to live in a "sober house" in Los Angeles after leaving rehab in January 2011.[57] In September 2016, Lovato also purchased a Laurel Canyon home in Los Angeles for $8.3 million, which she sold in June 2020 for $8.25 million.[58] In September 2020, Lovato purchased a Studio City home in Los Angeles for $7 million.[59]
Hobbies
Lovato started training in Brazilian jiu-jitsu, a martial art derived from jujutsu, in 2016.[60] as of 2019, she is ranked as a blue belt.[61]
Relationships
Health
On June 21, 2018, Lovato released the single "Sober" in which she revealed she had relapsed following six years of sobriety.[62] On July 24, 2018, she was rushed to the Cedars-Sinai Medical Center in Los Angeles after emergency services were called to her home due to an opioid overdose[63] She was reported to be stable and recovering later in the day.[64] Lovato was reported to have overdosed on oxycodone laced with fentanyl[65] and was revived with naloxone. She was hospitalized for two weeks and subsequently entered an in-patient rehab facility.[66] In December 2018, Lovato took to Twitter to dismiss rumors about her overdose and went on to thank her fans, writing: "If I feel like the world needs to know something, I will tell them MYSELF. All my fans need to know is I'm working hard on myself, I'm happy and clean and I'm SO grateful for their support."[67] She went on to add that someday she would "tell the world what exactly happened, why it happened and what my life is like today.. but until I'm ready to share that with people please stop prying and making up shit that you know nothing about. I still need space and time to heal."
Lovato later revealed in a 2020 interview on The Ellen DeGeneres Show that her worsened struggles with bulimia in 2018 contributed to her eventual drug overdose, as she relapsed three months prior to the incident due to being extremely unhappy.[68] Lovato attributed these struggles to the extreme measures that her then-manager, Phil McIntyre, took to control what she ate.[69] Lovato also explained that, along with the controlling nature of her management team, they did not provide her with the help she needed: "People checking what my orders at Starbucks were on my bank statements... just little things like that... it led me to be really unhappy and my bulimia got really bad and I asked for help and I didn't receive the help that I needed." In the same interview, Lovato revealed that her thought process on the night she relapsed following six years of sobriety was as follows: "I'm six years sober and I'm miserable. I'm even more miserable than I was when I was drinking. Why am I sober?" When Lovato confronted her management team about her thoughts, they responded with, "You're being very selfish, this would ruin things for not just you but for us as well," which she says made her feel "completely abandoned" due to triggering her underlying abandonment issues with her birth father, and so she "drank that night".
Endorsements
From 2014 to 2016, Lovato was the face of the Skechers footwear brand.[70] They partnered with Shazam on the Demi World Tour in 2014.[71] In addition, they became the first-ever brand ambassador of the makeup brand N.Y.C. New York Color in 2015.[72] That year, Lovato promoted The Radiant Collection for Tampax "to help encourage young women to wear what they want regardless of what time of the month it is".[73] In June 2016, Lovato partnered with streaming service Tidal to livestream the first date of their Future Now Tour with Nick Jonas.[74] Since 2017, Lovato has released activewear collections with the women's athleisure brand Fabletics to raise money for organizations such as United Nations Foundation's Girl Up campaign and COVID-19 relief efforts.[75] Also in 2017, they performed at a dinner hosted by the jewelry company, Bulgari, to celebrate the opening of the brand's Fifth Avenue flagship store in New York City.[76]
Lovato became a brand ambassador for the JBL audio company in 2017[77] and for the mug company Ember.[78] In 2018, they starred in CORE Hydration's "Finding Balance" campaign, after becoming an initial investor of CORE Hydration after first discovering the brand in 2015.[79] Jaguar, JBL, Lyft, Ferrari, TikTok and Samsung products have been featured in Lovato's music videos.[80] They also appeared in commercials for Skechers, Acuvue, Apple, and Fabletics.[81] In 2019, Dior used Lovato's song "Only Forever" from their album Tell Me You Love Me in a series of commercials and social media posts to promote the brands "Dior Forever" makeup collection. Since September 2020, Lovato has served as a Mental Health Spokesperson for the online and mobile therapy company Talkspace.[82] In March 2021, Dior used Lovato's song "Confident" to promote their new Dior Forever foundation in a series of social media campaigns.
Awards and nominations
Main article: List of awards and nominations received by Demi Lovato
Demi Lovato has won various awards, including an award at the MTV Video Music Awards, one award at the ALMA Awards, five People's Choice Awards, a Billboard Women in Music award, a Guinness World Record and fourteen Teen Choice Awards. Lovato has received two Grammy Award nominations, four Billboard Music Awards nominations and three Brit Award nominations.[83][84]
Discography
Main article: Discography
Filmography
Main article: Filmography
External Links
Gallery
"I've been good, don't I deserve it?"
To view the
Demi Lovato
gallery, click
here
.
References
Demi Lovato

Studio Albums

Extended Plays

Documentaries

Tours